The Ford F150 trucks were introduced to the United States in 1948 and they were known as the Ford Bonus-Built trucks. They were built on a dedicated truck platform unlike earlier versions that were built from car chassis during the war. Ford's very first truck was built in 1917 and it was based off the Model T and named the Ford Model TT. The truck had a cargo capacity of one ton back in the day, which, if you can imagine, was no small feat for that era.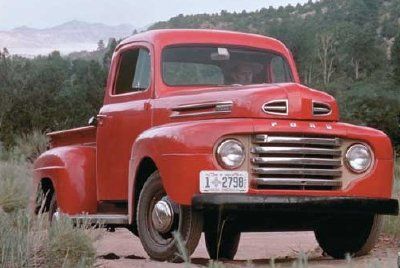 The First Generation was between 1948 and 1952.

The first generation F-Series trucks carried the designations of F-1 through F-8. They were rated by weight as panel trucks, conventional trucks, school buses, cab-over-engine, and of course, the pickup truck. Each truck was equipped with a manual transmission, and they featured driver and passenger side windshield wipers and a foot-plunger windshield washer. This was pretty high-tech stuff back then, as well as quite an accomplishment for Ford.
To signify the importance of the Ford truck history: The 1948 F-Series line was Ford's first post-war truck which debuted a year before Ford's first post-war car. Henry Ford shut down all civilian production during WWII in order to produce vehicles that would support our allies and our troops. When the war ended, the F-Series trucks, along with the veterans, were the first to be recognized.
The Second Generation was between 1953 and 1956.

It brought about a complete redesign of the F-Series. They received new engines, updated chassis, roomier interior and exteriors, options such as a radio, dome light, arm rests, and lighter- and the Series also underwent an important name change. It was during this period that the F-1 became the F-100 and the F-2 and F-3 merged to become the F-250 and the F-4 became the F-350. These designations remain in place to this day.
1955 is the year Joe Cotton started selling Fords.The flathead engine in the F-100 was replaced in 1953 by Ford's new 239 CID overhead valve Y-block V8 and it quickly gained the nick-name of the "Power King." It was soon replaced by the 279 and 317 in 1954 and during this time, power steering was first introduced as an option.
A special F-100 was designed as a one-year-only body style in 1956 and featured a wrap around windshield instead of a sloped one and it offered vertical windshield pillars. This year's model also offered Ford's very rare "Low GVWR" (gross vehicle weight rating) versions of each model and in this year, seat belts became optional.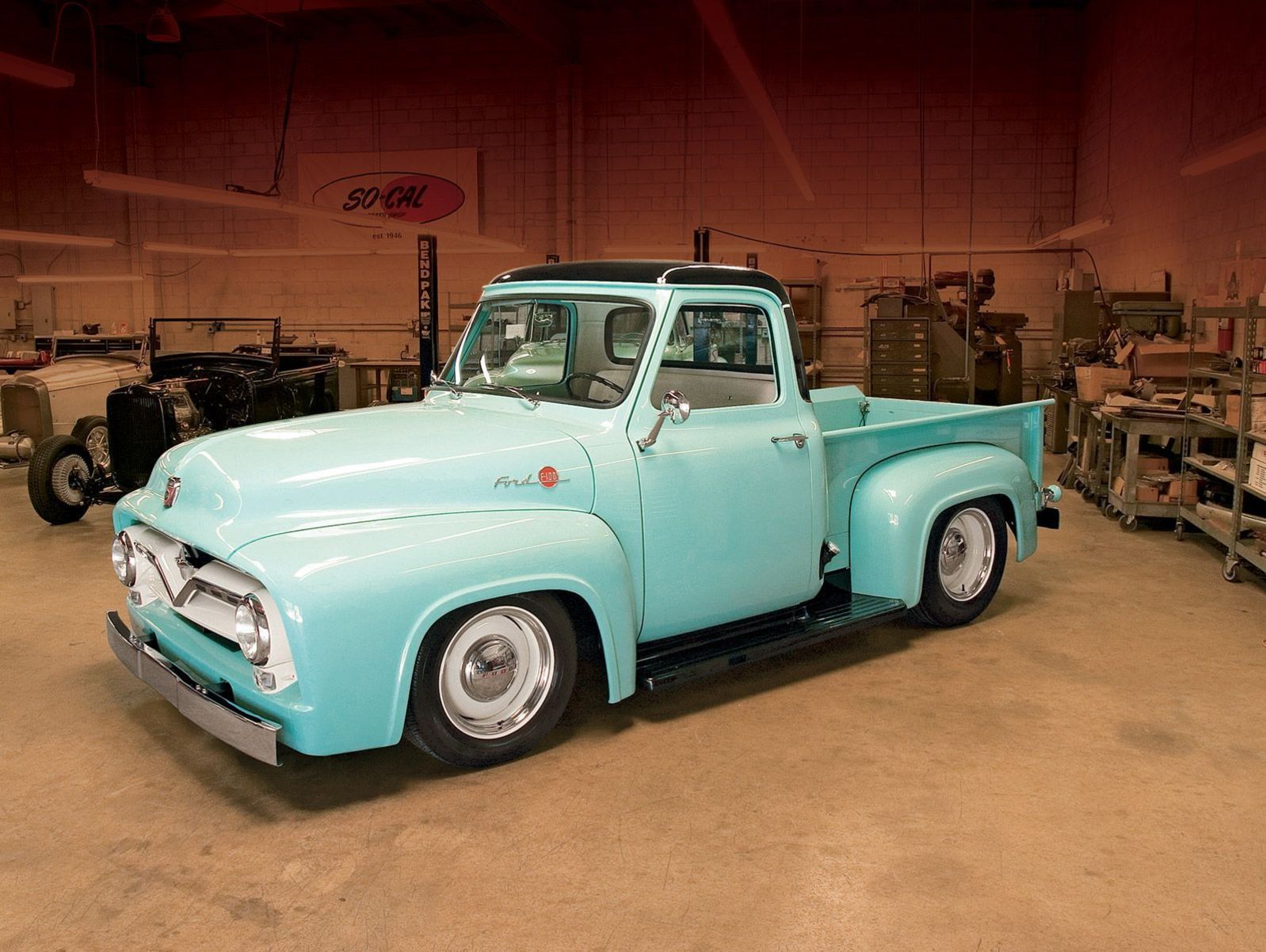 The Third Generation was between 1957 and 1960.

The 3rd Generation brought about a new, modernized body style where the front fenders became a part of the truck's body and the hood was integrated into the bodywork to create a clamshell design that would remain a prominent feature of the truck for the next twenty years.
The cab-over F-Series was discontinued and was replaced by a tilt-cab C-Series that many may remember was used as a fire truck and heavy-duty delivery truck beginning in 1957. The C-Series production was discontinued in 1990. As another milestone for Ford, they began production of four-wheel-drive pickups in 1959.
The Fourth Generation was produced between 1961 and 1966.

Once again, a new style emerged and the look was noticeably different. In 1965 the Twin-I-Beam front suspension changed everything and it remained a part of the F-150 up to 1996 and up to 2016 on the F-250 and F-350 4x2. The addition of the Twin-I-Beam allowed the front wheels to run independently of one another giving it greater maneuverability and a much smoother ride.
1965 Ford F100 RangerAn F-Series 4-door-crew-cab model emerged in 1965 to compete with passenger cars and the 300 cubic inch 4.9L straight six was introduced and it remained in the F-Series trucks until 1996. In 1965, Ford introduced the name "Ranger" to its lineup.
It was previously a base model of the Edsel and in keeping with Edsel tradition, this, too, was said to be a little ahead of its time for 1965. It featured bucket seats from the Ford Mustang, detailed styling, softer suspension, and it brought sophistication to the pickup trucks of the day. The Ranger underwent many changes throughout the years and the last one was produced in the U.S. in 2011.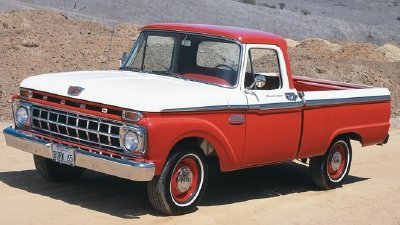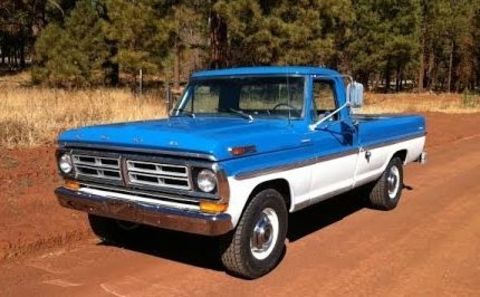 The Fifth Generation lasted between 1967 and 1972.

The cab was roomier by 3" than that of competitors and the truck came with a heavier frame. Between these years, there were 3 trim packages available: Base, Custom Cab, and Ranger. New safety features were added to the exterior to include reflectors to the rear of the truck bed. This was the first generation to offer factory installed air conditioning as opposed to dealer installation.
1972 Ford Camper SpecialA new grill design was added in 1969 and a 302 Windsor V8 engine was optional. Also during these years, a new trim for the Ranger XLT was added as the top of the line. Other options included AM/FM radio. Ford discontinued the Low GVWR versions of the F-Series but the Camper Special F-250 was introduced in 1972. Remember the era of "The Camper"?
It is probably safe to say that we all know someone who had a camper attached to the bed of their pickup truck back in the day. And it is probably safe to say that there are numerous stories that will be passed down from generation to generation about how great they were and all the wonderful experiences that were involved.
The Sixth Generation would be the one that changed truck history forever, 1973 - 1979.

Significant changes and upgrades were given to the Series that included larger cabins, front disc brakes, a relocated gas tank outside the cab, improved heating and air, and more galvanized steel. Also during this time, the 4-wheel-drive SuperCab made its debut.
History of Ford F150 1975 In 1975, the F-150 was introduced and has since gone on to become the best selling truck ever. Now, that's grounds for bragging rights. In order to avoid certain emission control restrictions back in the day, the F-150 debuted between the F-100 and the F-250 and the rest is history. The Ford Bronco was redesigned into a variation of the F-Series in 1978 and featured a removable camper shell. In 1979, the 460 big block engine in the half ton truck saw its final year.
The Seventh Generation occurred between 1980 and 1986.

This generation received the first complete redesign since 1965 from the ground, up. Improved aerodynamics and fuel economy and both interior and exterior modifications were made. In 1983, diesel power was added to the F-Series. In 1984, a new high-output version of the 5.8L Windsor was introduced and 1985 saw the first year of electronic fuel injection for the 5.0L V8. In 1988, all other vehicles switched over to electronic fuel injection. In 1983, the F-100 halted production, placing the F-150 as the lightest pickup on the market. In 1986, the F-150 no longer offered "3-on-the-tree" manual shifting.
This generation was the first to include upscale amenities such as power windows, power door locks, power mirrors, interval windshield wipers, tinted windshield, locking gas cap, inside locking hood release, and so many other options and standards were available during this new, technologically-charged generation.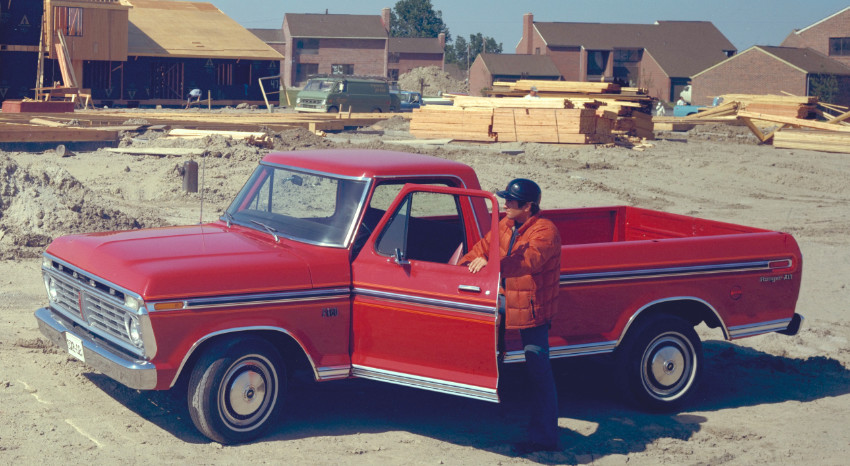 The Eighth Generation was between 1987 and 1991.

In the first year of this generation better aerodynamics included a rounded front clip and softer lines around fender arches and the rear bed and it sported an all new interior. The first 5-speed manual overdrive transmission was introduced in 1987 and 4-speeds were discontinued.
In 1989, a C6 3-speed automatic was replaced as a base automatic transmission by an E4OD, 4-speed electronically controlled automatic overdrive unit. In 1987, the F-Series 4.9L inline 6 was converted to fuel injection and in 1988, the Ford F-150 became the first pickup truck that was sold as a non-carbureted engine. In 1989, the F-Series had been established as being the nation's best selling vehicle.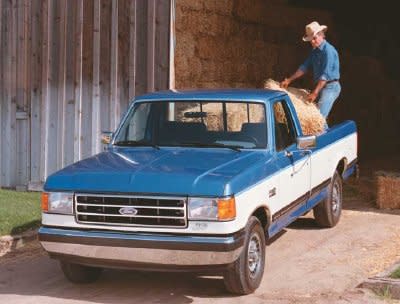 The Ninth Generation was between 1992 and 1996.

The F-150 received a new facelift. The FlareSide bed was reintroduced since its retirement in 1987 as an option, and a lower hood line, more advanced aerodynamics, newly designed fenders and grille changes and interior upgrades were notable. This generation marked Ford's 75th anniversary of its 1917 Ford Model TT and Ford offered an anniversary package on its 1992 F-Series that included a 75th Anniversary Special Logo.
The 1994 models offered an updated dashboard with the addition of a driver's side airbag in the F-150. Also, a high mount, third brake stop light was included in the new look. New hi-tech options included remote keyless entry with alarm, power driver's seat, and a compact disc player. By 1996, Ford had overtaken combined sales of Chevrolet and GMC for the first time in a decade by reaching the 800,000 mark.
The Tenth Generation occurred between 1997 and 2003.

This is where Ford made some major changes to its F-Series lineup and was basically split into two categories: F-150 became a contemporary personal use truck, while the F-250 and F-350 became classified as working class trucks. The 1997 F-150 would be re-introduced with the aerodynamics given to the Ford Taurus of 1986, making it much more streamlined for a better ride and greater fuel economy. The 4.9L inline 6 was replaced by a standard V6 engine.
Ford didn't let the 50th Anniversary of the F-Series pass unnoticed, with numerous promotions depicting the inaugural 1948 version beside a new 1998 model.
A fully independent front suspension was added, and a new chassis shared only the transmission from previous years. Greater rear seat access was achieved by adding a rear-hinged (curb-side) door to all models. In 1999, the SuperCab had a fourth door added to it. As another Ford first, in 2001, the F-150 was the first of its size to offer four, full size doors. Motor Trend Magazine named the new F-150 as Truck of the Year in 1997 and sales of the F-150 surged from 750,000 to over 900,000 in 2001.
The Eleventh Generation was between 2004 and 2008.

The F-150 received an all new platform in 2004. Also in this generation, all F-150s were given four doors, regardless of their cab type. The Triton engine was also introduced in this year and a flex-fuel version of the 3-valve 5.4L Triton V8 became available in 2006. A navigation system became available for the first time as an option in 2006 on some models, including the Harley Davidson Special Edition trim.
The Ford F-150s of this generation not only received a "Good" rating from the Insurance Institute for Highway Safety's Frontal Offset test-they also received "Best Pick." They went on to earn the North America Truck of the Year award for 2004, was Motor Trend magazine's Truck of the Year for 2004, and won Car and Driver magazine's Best Pickup Truck for 2004, and 2005.
The Twelfth Generation F-Series was produced between 2009 and 2014.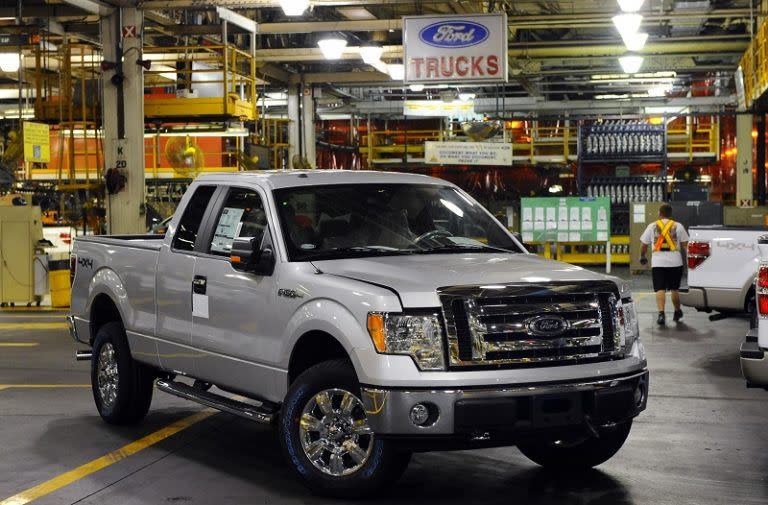 Beginning with 2009, there were many new upgrades to the interior and the exterior featured a new three-bar grille, roomier interior, a lighter weight chassis made from high-strength steel and a greater towing capacity. A V8 engine was standard on all F-Series models for the first time in history and no 6-cylinder was available.
In early 2011, a 3.5L direct-injected twin-turbo EcoBoost V6 was offered in the F-150 and all engines came equipped with a new six-speed 6R80 automatic transmission. Other notable changes included the previous generation's short, rear opening doors that were replaced by standard length doors, and electric power-assisted steering became available on all models with the exception of the 6.2.
The Thirteenth Generation began in 2015 to present (2017).

Another Ford first was accomplished with the 2015 F-150 model when it became the very first pickup to receive Adaptive Cruise Control. This feature offers radar sensors embedded on the front of the truck that monitors the distance between the vehicle in front of you and yourself. If it senses you are too close, speed will automatically be decreased, forming a safe barrier.
The Ford F-150 also underwent a radical change in 2015 by dropping 750 pounds by switching from a steel body to that of all-aluminum. This was quite an accomplishment, considering nothing "looked" physically changed; however, the bulk of the frame remains high-strength steel.
Along with dropping a few pounds, a more efficient base engine was added to include a 3.5L V6 and also introduced for 2015 was the 2.7L EcoBoost twin-turbo V6 and the 3.5L version. For those wanting more power, the 5.0L V8 is still available. Ford says the 2016 all-aluminum F-150 will be the most fuel-efficient truck ever. See-you can have your truck and drive it, too.
How do you take a steel truck and turn it into an all-aluminum truck without altering its rugged F-150 look? Come out to Joe Cotton Ford in Carol Stream and we will be glad to show you!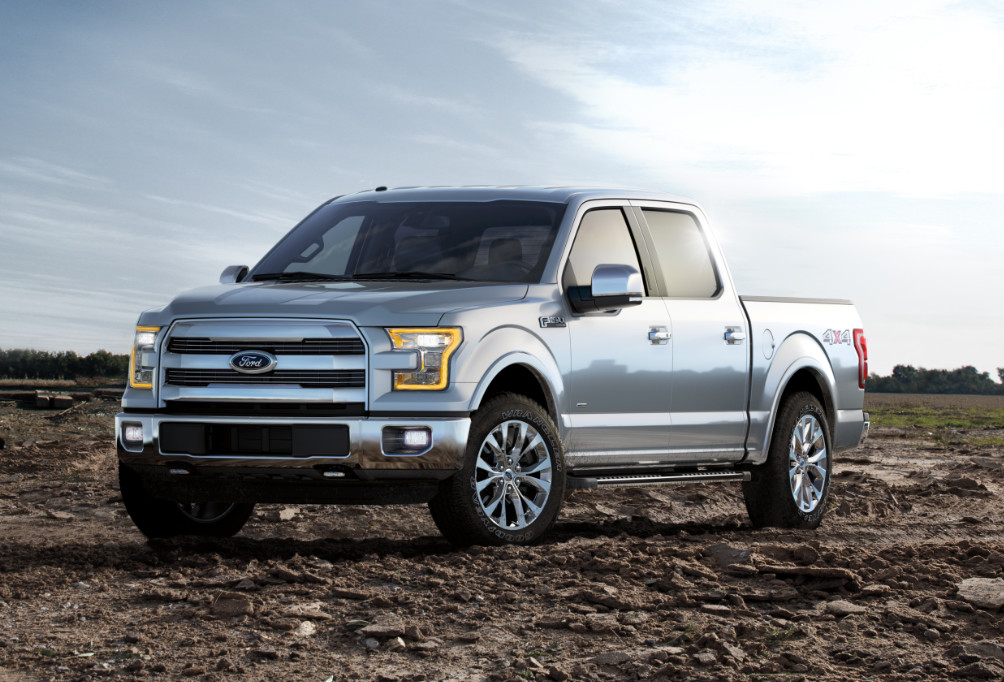 Ford F150 History Continues

NEW F-150 NAMED 2018 MOTOR TREND TRUCK OF THE YEAR; FORD FIRST WITH FULL TRUCK LINE BACK-TO-BACK WINS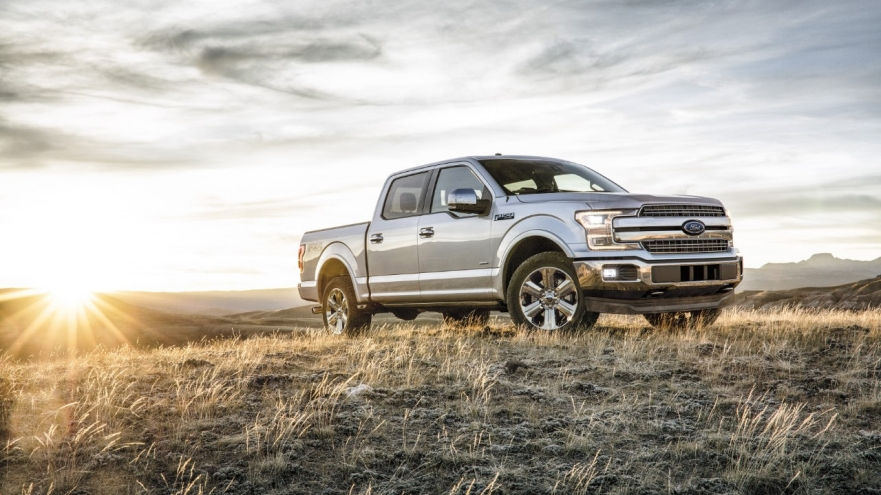 Los Angeles, Nov. 27, 2017 - Ford, America's truck leader for 40 straight years, has bested all competitors to earn 2018 Motor Trend Truck of the Year honors for the new Ford F-150. This is the fifth win for F-150, and this award follows the all-new Ford Super Duty capturing the award in 2017.

"Back-to-back wins for F-150 and Super Duty reflect what we're also seeing and hearing from customers as we celebrate 40 straight years as America's favorite and best-selling trucks," said Raj Nair, Ford executive vice president and president, North America. "The Ford Truck team stretched further than ever to deliver our toughest, most capable and smartest trucks."

"This year's competition was fierce, but the vote was unanimous," said Ed Loh, Motor Trend editor in chief. "The newly redesigned 2018 F-150 exceeded our expectations in every category - powertrain, performance, technology and overall execution."

The Ford F-150 line went up against the latest competitive truck offerings in a program that combined empirical and real-world testing to find the truck that best met the award's key criteria: advancement in design, engineering excellence, safety, value, efficiency and performance of intended function. Motor Trend editors put to the test four vehicles from the Ford pickup lineup: the 2018 F-150 XL with the all-new 3.3-liter V6 engine, F-150 Lariat with the all-new 2.7-liter EcoBoost®, F-150 Platinum with an enhanced 5.0-liter V8, and the high-performance off-road F-150 Raptor.

Judges cited overall towing capability, advanced technology functionality and powertrain performance among their favorite F-150 attributes. They also noted exemplary on- and off-road driving performance, best-in-class fuel economy and innovative cab design as F-150 strengths.